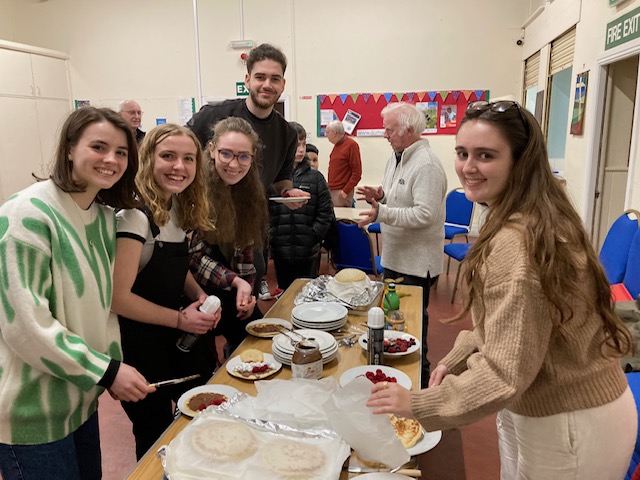 Students from Josephine Butler College together with their chaplain, Mr Andrew Tinkler joined friends and members of the congregation to attend the annual Shrove Tuesday Pancake feast in the church hall.
Pancake Day or Shrove Tuesday is the traditional feast day before the start of Lent the next day, Ash Wednesday. Lent – the 40 days leading up to Easter – was traditionally a time of fasting. It was the last chance for a spot of indulgence before the fast began and also an opportunity to use food that couldn't be eaten during Lent. This included eggs fat and milk which were eaten and made into pancakes on that day.
A variety of delicious regular and vegan pancakes whetted the appetite of the students which were prepared by Mr David Thornborrow and his team of willing helpers. The feast was preceded by an illustrated talk of how Pancake Day is celebrated around the world. In France, the USA and other countries it is called 'Mardi Gras' or 'Fat Tuesday,' a festival season of often extravagant parades and colourful carnivals that varies from country to country.
A very special thank you to David and his team for a most enjoyable evening.
Revd Ray Anglesea
Shrove Tuesday, 2023