Worship Area
Our Worship Are
a is a very adaptable space. Its length is 12 metres and its width is 10 metres. It can accommodate up to 100 people with the seating in rows. Smaller groups can be accommodated in different configurations by moving the seating to suit individual group's needs.
The Woods Room
The Woods Room is our small upstairs meeting room. It is 7.5 metres long and 3.5 metres wide. It can accommodate up to 20 seated people with up to 12 if seated round a table.
Please note that this room is not suitable for those unable to climb stairs.
The Hall
Our hall is 8.5 metres long and 7 metres wide. It can accommodate up to 80 people seated in rows and up to 55 people seated around tables. This enables it to be used for small lectures, presentations, children's activities and meals. This space can be used in conjunction with our 5 star hygiene rated kitchen if required.
Kitchen
Our kitchen has recently been refurbished to meet the 5 star hygiene rating. It is fitted out with Microwave, industrial standard cookers and sinks, hot water boiler and dishwasher. Our cups, plates and cutlery can be used, but users will need to provide their own tea, coffee, milk, sugar and other consumables.
Vestibule Area
Our vestibule area is situated immediately outside the worship area. It measures 4 metres wide by 7 metres long. It can be used as a small meeting room when the Church is not in use where access for Disabled persons is required or as an extra resource when hired along with another room. It can seat 20 people in rows or 12 round a table.
Disabled Access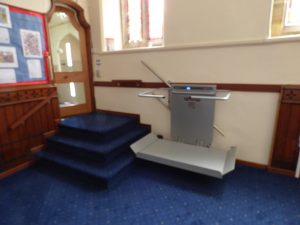 Our ground floor is almost totally Disabled friendly. Access to the building from Waddington Street is flat and access from Mowbray Street is via a temporary metal ramp for wheelchair users. Access between the Hall/Kitchen area and the Vestibule/Worship area can be made via a chair lift. A disabled toilet is situated immediately adjacent to the hall.
Room availability can be checked via our Lettings Calendar.
Room bookings and further enquiries can be made on our Room Hiring page.