We look forward to the concert to be given by the St John's Chapel Choir in our church on Saturday February 8th, in aid of Hope for Justice  – a charity seeking to end Modern Day Slavery
Here are details of some of the composers to be featured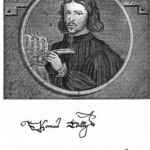 Thomas Tallis (born c. 1505, died 1585) is one of the most important English composers of sacred music. He was one of the first composers to provide settings to English church and choral music.
In 1543 he became a member of the Chapel Royal.
Orlando Gibbons (born 1583, died 1625) was an organist and composer.  In 1603 he became a member of the Chapel Royal and later became the chapel's organist, a post that he retained for the remainder of his life.
In 1622 he was made honorary doctor of music with the University of Oxford. The following year he became organist at Westminster Abbey, where he later officiated at the funeral service of King James I. Gibbons' full anthems are among his most distinguished works. It shows Gibbons' mastery of harmony. 
Anton Bruckner (born 1824, died 1896) was an Austrian composer of a number of highly original and monumental symphonies. He was also an organist and teacher who composed much sacred and secular choral music.
Throughout his adult life Bruckner displayed an intense devotion to the spiritual life; an inexorable appetite for musical study, revision, and improvement; and a love of practice and improvisation at the organ.
Charles Wood (born 1866, died 1926) was an Irish composer and teacher; his pupils included Ralph Vaughan Williams at Cambridge and Herbert Howells at the Royal College of Music.
Wood received his early education at St Patrick's Cathedral Choir School Armagh and also studied organ with two Organists and Masters of the Boys of Armagh Cathedral. Wood is chiefly remembered for his Anglican church music
Arvo Pärt (born 1935) is an Estonian composer.
A devout Orthodox Christian, he developed a style based on the slow modulation of sounds such as those produced by bells and pure voice tones, a technique reminiscent of the medieval Notre-Dame school and the sacred music of Eastern Orthodoxy.
J
ames MacMillan (born 1959) is the pre-eminent Scottish composer of his generation.
He read music at Edinburgh University and took doctoral studies in composition at Durham University with John Casken. Some of his recent musical highlights include premieres of MacMillan's A European Requiem, Stabat Mater for The Sixteen.
Tickets, including a buffet supper, may be purchased in advance or at the door at £8.00