1914-1918       1939-1945

WW1 MEMORIAL DEDICATION
Excerpt from the Durham Chronicle dated 29 October 1920
DURHAM PRESBYTERIAN CHURCH
Memorial Tablet Unveiled
On Sunday, the Rev. A. R. Paton M.A., of Seaton Delaval, returned to his old charge and preached both morning and evening in the Durham Presbyterian Church. The attendances at both services were very large, especially at Evensong, when the minister dedicated and unveiled a brass tablet erected by the members and adherents of the church in memory of Pte. J. A. Laing; Pte. C. Spence; Sergt. W. Carrick, Jas. Richie; John Purvis and Pte. J. Shankie, who made the supreme sacrifice in the Great War, and also a marble tablet erected by Mr and Mrs Purvis in memory of their son John, aged 30, who fell in action in France in May 1917.
The evening service was most impressive. As a voluntary Mr. Dixon played "My Rosary" and the hymns selected were of a bright and re-assuring character. The Rev. A. R. Paton took for his text the words "This do in remembrance of Me" and he divided his eloquent and stirring address into three heads – the debt we owe to the nation; to the church and to the individual. At the outset Mr Paton declared that the world was infinitely poorer today because so much of its best manhood had been blighted or had perished off the face of the world. The loss of their brave heroes would not have been in vain if the ideals for which they entered the struggle became the realised on international and industrial relations.
It was their duty, he continued, to prevent the perishing of true home life. Not only the physique of the nation , but the loyalty and temper of the people were being strained, and it was their duty to spare no effort that would prevent their land from becoming fit for those who remained and those who had returned to live in and to make it something more than mere sentiment " Home Sweet Home". They wanted home to be a land of peace, happiness and contentment.
The challenge came to the church and she nobly responded to the call of duty, them to re-dedicate the church so that she may take her real part in the world today. Further, it was their duty to be worthy of those whose names were inscribed upon the memorial and so to live that they might be worthy at the last to join them above. It was not now a time for them to repine or indulge in vain regrets or to be misled by any false doctrines or creeds, nor was it a time for them to determine their friends' destiny, for the new in their hearts that their departed were in God's hands and He gave His beloved whatever was best.
Mr. Paton then removed the Union Jacks and unveiled the memorial tablets.
At the conclusion of the dedication prayers, two buglers sounded "The Last Post" and Miss L Frazer sang very sympathetically "O rest in the Lord". The choir rendered the anthem "Crossing the Bar" and after the singing of the hymn, "O love that will not let me go" the minister concluded the impressive service with the Benediction.
FOREWORD TO THE BOOKLET
The purpose of this booklet has been  to create a lasting memory of the men who are named on the remembrance memorials in Waddington Street United Reformed Church, Durham. In doing so we have tried to 'bring them to life' by recounting their stories and remembering that they are not just a name and that they made the supreme sacrifice that we may enjoy the privileges we have today.
Yvonne Melville and David Woods  —  2018
"They went with songs to the battle, they were young.
Straight of limb, true of eye, steady and aglow.
They were staunch to the end against odds uncounted.
They fell with their faces to the foe.
They shall grow not old as we that are left grow old;
Age shall not weary them, nor the years condemn.
At the going down of the sun and in the morning
We will remember them. "
                                                    Robert Laurence Binyon
Dear Reader,
This account is only a snapshot. If you have any further information on any of the soldiers mentioned or their families, please inform someone at Waddington St URC.
Regards
Yvonne & David
1914 – 1918 WAR
Rev. Alexander Robertson Paton
1939 – 1945 WAR
John Archibald (Archy) Laing
Pte 20781 Cameron Highlanders &
Pte 15271 72nd Brigade, Machine Gun Corps
John Archibald ("Archy") Laing was born towards the end of 1896 in Cnoc an Torran, North Uist, in the Outer Hebrides.  He was the son of John Laing and his wife Jessie Lexy Laing (nee McLean).  Archy had an older sister, Catherine, but she died in infancy.
Within a couple of years Archy and his parents had moved to Durham, where John snr was employed as an Assistant Warder at Durham Gaol.  The family lived at the prison, in No.27 Prison Quarters, and that is where his baby sister, also named Catherine, was born in 1900.
By 1911, the family had grown.  In addition to Catherine, Archy also had younger brothers and sisters; Normena Jessie McLean, Ewen, Maggie and Norman John McLean.  John was now a Prison Warder and Elder of our church (1922) but the family still lived in No. 27 Prison Quarters.  At 14years of age, Archy was still at Durham Johnston school.
Most of Archy's military records were destroyed by fire during the Second World war.  However, he initially joined the Queens Own Cameron Highlanders but transferred into the Machine Gun Corps when it was created in 1915/16.  The Cameron Highlanders were based in Inverness-shire and perhaps there were family ties to the regiment. Although regimental numbers only provide a rough guide to the date of enlistment, Archy's Cameron Highlanders number suggests he joined up in the summer, or early autumn, of 1915, when he was 18years old.
Archy was probably in training from the time he enlisted until March 1916.  The War Diary for the 72nd Brigade Machine Gun Corps records that they set off from Southampton for France on 9 March 1916..  The Brigade's War Diary shows that they first saw some action on the front line, near Ypres, in late April 1916.  They experienced a few wounded, with enemy gas attacks also causing casualties, but no men killed.
Towards the end of July, the 72nd M.G.C. moved to Morlancourt, just north of the River Somme, in readiness to join the Somme offensive.  The infamous battle had begun several weeks earlier on 1st July.  War Office records show that the 24th Division, of which the 72nd M.G.C. was a member, saw only two spells in the front line: 10-22 Aug and 31 Aug-4 Sept.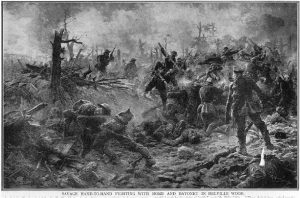 Delville Wood was a small area of woodland immediately north east of the French village of Longueval.  The battle to capture Longueval, and adjacent wood, took place between 15 July and 3 Sept 1916 and was one of a series of engagements in the Battles of the Somme.  Driving the German troops out of Delville Wood had been achieved at great human cost and the objective was considered to have been achieved by 30 August.  Between 1st July and the end of August the British and Commonwealth troops suffered over 30,000 casualties at Delville Wood, including 2,500 South
African's.
On the morning of 31 August , the 24th Division (including the 72nd M.G.C.) moved in to assist in the defence of the wood.  At 1p.m. on the same day the Germans began the first of three counter attacks launched that afternoon.  These were eventually repulsed but only after some fierce fighting.  It was during this action that Archy, aged 19yrs, was killed.  In total there were more than 30.000 British and Commonwealth casualties during the 7 weeks that Delville Wood was contested.
Archy was awarded the Victory Medal and British War Medal.
In May 1917, Archy's father, John, received £1 16s 8d from the Army and later, in June 1919, he received a "War gratuity" of £3 0s 0d.
Archy is buried at the Delville Wood Cemetry.  The Commonwealth War Graves Commission gives his grave reference as XXIV.C.27 and his parents address as Cross House, Nevilles Cross – although it is not known in which year this address applied.  It also records he was a native of North Uist.
A brief summary of the Battle of Delville Wood can be found at http://www.snowdenhouse.co.uk/index.php
Charles Hall Spence
Private 45872
20th Battalion, Durham Light Infantry
Charles was born in October 1884 in Stockton – on – Tees. He was the son of Thomas Chapman Spence and Margaret Spence. During his life he lived at various addresses in Durham, namely 10 Mowbray St (where our church is situated), 15 Alexandra Crescent, Neville's Cross and finishing at 4 The Peth in 1915. He lived in Durham with his parents Thomas and Margaret along with his big brother George and little sister Margaret. Charles was employed as a clerk to a corn merchants and according to his joining up records he was 5ft 4in tall with a 35-inch chest, quite slight in stature.
In 1915 aged 31 years 5 months he joined the 20th Battalion of the Durham Light Infantry who were known as the "Wearside Pals", having been commissioned at Sunderland district by Mayor Alderman Stanfield Richardson in July 1915. Charles saw active service with the battalion in France and Flanders, mainly at Ypres Salient, Flers and Mametz Wood.
It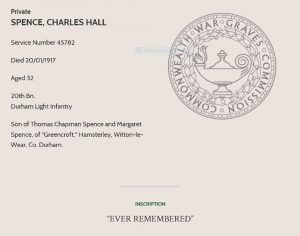 was during this service on 20 January 1917 that Charles gave the ultimate sacrifice and was killed in action on that day, he was 32 years old. Charles is buried in the Klein- Verstraat British Cemetery, Heuvelland, West Flanders, Belgium, 4 miles from Ypres.
His parents at the time of his death lived at "Greencroft" Hamsterley, Witton -Le -Wear , County Durham. On the 8th May 1917 Charles' will after probate left the sum of £48-14s-3d (£48.72.5p today) to his father Thomas as next of kin. Also on the 16th October that year the following articles were left at York station to be forwarded to Thomas Spence, Hamsterley , – a purse, watch, cycle club yearbook and cycle club membership card, Charles' last effects.
Charles Hall Spence is remembered on the memorials in Waddington Street Church and in the Comrade's Club,  (formerly Oldfields Restaurant in Claypath) as one of the 200 Durham men who did not return.
Walter Moffat Carrick M.M.
Lance Sergeant No.18/464
18th Battalion, Durham Light Infantry
Walter was born in Crossgate, Durham in 1886.He lived with his parents John and Anne at Milton House, The Peth, Durham. Walter's father John was a Public Works Contractor employing people including some of his children. The Carrick family lived at Milton House all their lives and had 11 children who lived there at some point along with a general domestic servant, Margaret Thompson from Tinsley, Lancashire. Walter along with his big brother and sister, John and Eleanor worked as clerks or assistant Public works contractors with their father. The family were still listed as living in Milton House in 1918.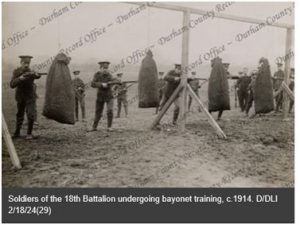 On 17 September 1914 Walter joined the 18th Battalion of the Durham Light Infantry (1st County) when he was 28 ½ years old. The 18th Battalion was quite unique having been raised by contributions from well to do people of the County, without expense to the nation. The Battalion was formed on 10 September 1914 by Col. R. Burdon and a committee with the Earl of Durham at Cocken Hall, Durham. They officially joined the War Office on 15 August 1915 and were known as the Durham Pals.
During 1915/16 Walter served in Egypt for less than 3 months, moving to France on March 11th 1916. On June 27th, 1917 the battalion returned to the front line taking over from the 16th West Yorkshire regiment. On 28th June, the day Walter died "the battalion at 7.10pm on a wide front stormed successfully Cardorna, Wood and Oppy trenches, gaining all objectives. Their part confined to misleading the Boche by sending up coloured flares and false barrages of trench mortars and thermite, an explosive of white-hot heat hurled by shells."  Walter was killed in action and in the London Gazette on 9th July 1917 it was intimated that Walter had been awarded the Military Medal, awarded for acts of Gallantry and devotion to duty under fire or for individual or associated acts of bravery which were insufficient to merit the Distinguished Conduct Medal. Walter is buried in Bailleul Road East Cemetery, St Laurent- Blangy , Bailleul ,a large town in France near the Belgian border.
In 1923 the probate records show the Walter Carrick of Crossgate Peth, Durham left the sum of £236 11s 3d (£236.57p) to Emily Jane Carrick (spinster) his big sister and William Percival Douglass (bank cashier) , his brother-in -law who married Walter's sister Eleanor in 1911.
James Ritchie
Private 1814
10th Battalion, Australian Light Trench Mortar Battery
James Rtichie was born in 1889 in Durham City, the son of Alexander and Elizabeth Ritchie. During his life James lived at various addresses in Durham, namely 8 Joblings Buildings (Framwellgate),  14 Wynyard Grove (St Giles, Durham) and 93 Claypath . James lived with his parents, big brother Alexander and big sister Ethel, who was baptised in Durham Presbyterian Church (now Waddington St. URC) on 29 November 1880 by the Rev. A.L. Henderson. James was a tailor by trade and was apprenticed to a Mr Heslop. We do not know the reason why but on 12th September 1913 James, aged 26, left the Port of London on the Otranto of the Orient Steamship line and sailed 3rd Class to Sydney, Australia. In 1915 James married Louise Shoosmith in New South Wales and lived at 2 Morton Street, Concord, New South Wales.
On 23 October 1916 James joined up in Sydney aged 28½ and on his recruitment form he was described as being 5ft 3½ inches tall, weight 136 lb, chest 35 -37 inches, of fair complexion with blue eyes and light brown hair, quite slight in stature. His religion was given as Presbyterian. James joined the 10th Battalion of the Australian Trench Mortar Battery and on 2nd December 1916 they embarked to Plymouth, England, disembarking on 17 February 1917. After training and refresher training James was sent to Fovant Deverill, Rouelles on 3rd November 1917. James was killed in action on 10th August 1918 aged 30. The following extract describes James death.
"James was killed by fire from a hostile plane at 10pm at night on 10th August 1918 while his battery was moving into action. He was the only one killed and his comrades in shock buried him at the roadside with a named cross marking the spot "
On the 28th November 1918 James's brother Alexander, (also now in Australia at Kalgoorlie, Western Australia) hearing from James's comrades how James had died wrote to his commanding officer to ask that his brother should be buried in a proper grave. The officer wrote back to say that this was being done and James was buried in Heath Cemetery, Harbonniers , France. Alexander received a photograph of his grave. On 17 July 1919 James wife Louise received a parcel with the following of James's effects – 1 damaged Ingersoll watch and strap,1 notebook, 2 wallets (money 2 notes ,1 franc and 50 centimes ,1-coin, 1 letter, photos and 3 pieces of brass.  James's wife remarried in 1922 and became Mrs Ralf. She received a memorial plaque to James on 4th April 1923.
James is remembered on the memorial in Waddington Street URC and also on the Comrades Club memorial, Claypath (formerly Oldfields Restaurant) as one of the 200 men of Durham who lost their lives in WW1.
John Purvis
Private  829621
44th Battalion (Manitoba)
Canadian Expeditionary Force
John Purvis fought and died with the Canadian Expeditionary Force in WW1 but he was a native of Northumberland, raised in County Durham.
John was born in Glanton, Northumberland, about 7 miles west of Alnwick, on 27 March 1887. Both his parents, Robert & Eleanor, were Northumbrian.  Eleanor was also born in Glanton, whilst Robert came from the (now 'lost') village of Barton, about a mile south of Glanton.  John had an older sister, Isabella, and would also eventually have two younger sisters, Mary Elizabeth & Mabel. Mary married William Ronald, a Dentist and Elder of this church.
By 1911 the family had moved to Farewell Hall, just south of Durham, where Robert was employed as an 'Estate joiner' at Burn Hall.  At that time, Burn Hall was owned and lived in by members of the Salvin family, who also had the nearby Croxdale Hall and Estate.  The young John was an Ironmongers Assistant, working for Messrs Forsters.
In 1912, as he approached his 25th birthday, John emigrated to Canada, arriving at Halifax, Nova Scotia, on 31 March.  He initialling worked as Farm Labourer.
War came and, on 30th November 1915, John volunteered to join the Canadian Expeditionary Force (CEF).  At the time of his enlistment he was living at 51 Dagmar St, in Winnipeg, and gave his occupation as Clerk.  His Service Attestation papers record that he was single, 5' 8" tall, of ruddy complexion with blue eyes and a Presbyterian.
John joined the 44th Battalion (Manitoba) of the CEF.  The 44th Battalion came was formed in November 1914 and had embarked for Great Britain on 23 October 1915. After training in Britain, the battalion eventually arrived in northern France on 12 August 1916, where it fought as part of the 10th Infantry Brigade, (4th Canadian Division) until the end of the war.
The 44th Battalion participated in the Battle of the Somme, which had begun 6 weeks before they arrived in France and continued into the Autumn of 1916,  In the Spring of 1917 the battalion took part in the Battle of Vimy Ridge, part of the Battle of Arras.
Vimy Ridge is a 4 mile long escarpment, about 5miles to the north east of Arras.  It is elevated above the surrounding plains and provided an unobstructed view for many kilometres in all directions. The ridge had been held by the Germans since October 1914.  The battle to recapture the ridge saw all four divisions of the Canadian Expeditionary Force fight together for the first time.
It took 4 days from Easter Monday, 9th April, until 12th April for the Canadians to displace the German 6th Army.  Although the victory was considered a striking success, it had cost the lives of nearly 4000 Canadian troops , with another 7000 wounded.  Four Canadians were awarded the Victoria Cross for their actions during the battle.
After losing Vimy Ridge the Germans withdrew to another defensive line about 5 miles east of the ridge.  The Canadians pressed on eastwards and by early May the front line trenches of the 44th Battalion were at La Coulotte, very near Lens.  It was here on the 7th May that John was killed – instantly – by an enemy shell which landed nearby. The battalion war diary records that 11 men were killed and another 43 wounded during the day.
John's remains were not recovered and he has no grave but his name is proudly displayed on the Vimy Memorial.  The memorial is sited on the highest point of the ridge and bears the names of around 11,000 Canadian servicemen who died in France and have no known grave, including those who fought for Vimy Ridge.
A memorial plaque was also placed in this church by his parents.  [Note: the plaque gives John's date of death as 6 May 1917, whereas official records all state 7 May]
A monument was originally erected on Vimy Ridge, France by the 44th Battalion in 1917. In 1924, the monument was moved to its present location in Vimy Ridge Memorial Park on Portage Avenue in Winnipeg by members of the 44th Battalion Association and next of kin. Plaques on the sides of the monument listed those in the 44th Battalion who had lost their lives during the Vimy Ridge battle, including John Purvis.
James Shankie
Private (Signaller)  21/ 447
18th (Service) Battalion, Durham Light Infantry
James Shankie was born in Campend Hamlet, a few miles south east of Edinburgh, on 29th May 1879.  His parents were Thomas, a coachman and domestic servant, and Janet, formerly a dressmaker.  He was the fifth son, of six, to Thomas and Janet, who also had two daughters.  Thomas Shankie had been born in Edinburgh but Janet's family, the Hunter's, lived in Newton, about 1/2mile from Campend.  The Scottish census records for 1881, 1891 & 1901 all show James living at the family home in Campend, with the 1901 census recording him, at 21 years old, employed as a Grocer's assistant.
We do not know why James moved from Campend to Durham, but by 1911 he was living as a lodger in the home of a widow, Mrs Susannah Wright, at 63 Gilesgate, in the city.  This terrace building is now a residential property – near the bottom of Gilesgate bank (just above the roundabout on the A690) – but at that time, 63 Gilesgate was a Tobacconist's shop.  Mrs Wright's two grown up children and another lodger also lived with her.   The census of that year shows that James was still employed as a Grocer's assistant.
We also know from a news article in the 'Durham Chronicle' of 25 June 1920 that James had been a member of the Durham City Lawn Tennis Club and, from 'De Ruvignys Roll of Honour' that he had been well known in the 'musical circles' of both Dalkeith and Durham.
On 2nd December 1915, at the age of 36, James enlisted in the Durham Light Infantry (DLI).    He joined the 21st Battalion, which was the first of the DLI's 'New Army' reserve battalions.  James was not called up for three months and was only 'mobilized' to join the 21st Battalion on 22 March 1916.  He will have trained initially at Catterick and then at Hornsea, on the East Yorkshire coast, north of Hull.
The "Descriptive Report on Enlistment", found in James' service records, states his height as 6′ 11/2" and his expanded chest measurement as 36″.  In addition, the notes on his medical examination when he actually joined the 21st Battalion in March 1916, state that he had upper and lower plates.  So James was a bit of a 'beanpole' who had lost some teeth!
Less than 4 months later, on 21 July 1916, James was shipped to France and transferred to the 18th DLI.  He was trained as a Signaller and the image to the right shows the crossed flags of the Signaller's badge.
The 18th Battalion DLI had been in the front line from the start of the Battle of the Somme on the 1st July 1916.  It was eventually moved back to the reserve trenches after 4 days but had taken heavy losses, with about 500, of 800 men, dead or wounded. The 18th Durhams then returned to the front line on 27th July where they remained, on & off, until late Autumn.  By late November the battalion was in a low state.  The Battalion diary for 30th November records more than 100 men on sick parade for several days, with most "suffering from sores owing to run down condition".
On the 21st March 1918 the German's launched the "Spring Offensive", which was a last ditch attempt at victory before the enormous resources of the United States military could be deployed.  The 18th Durham's were part of the resistance to the section of the German initial advance called the "Somme Offensive".  Then, by mid-April they were at Frevillers to the north-east of Arras, where the Germans launched another wave of the offensive called the "Lys Offensive".  On 12 April, the 18th DLI were forced to retire under heavy enemy pressure (and accidental shelling by British artillery).  It was during this action that James suffered severe gunshot wounds to his lower back and other wounds to his face, arm and chest.
It took 6 days to re-patriate James and he eventually arrived at the Queen Mary's Military Hospital in Whalley, Lancashire, on 19th April. Despite two operations and the best efforts of the medical staff, James eventually succumbed to a lung infection and passed away on 5 May.  His parents were with him when he died.
James was buried in Newton Parish Churchyard, near his birthplace and his parents home.
James was awarded the Victory and the British War medals.  The Army sent James's personal effects – a writing pad, two boxes of cigarettes, a toothbrush and three pencils – to his sisters, Isabella and Christina.
The National Probate Index for Scotland records that James's Will, made in October 1915 shortly before he enlisted, named his two sisters as Executrices.  He left a total of £307 19s 9d, which would be equivalent to more than £15,000 in 2018.
Rev. Alexander Robertson Paton
2nd Lieutenant
Army Service Corps
Alexander was born about 1887. He attended Daniel Stewarts College, Edinburgh University and gained an MA. Having been ordained to Ministry in 1911, Alexander at the Will of Durham Presbytery, met at Waddington Street Church for his ordination and induction on 27 September 1911, having been licensed by the United Free Church of Scotland. Interestingly Alexander was one of Waddington Street's first five ministers who had their first ministry charge there. Then we were known as Durham Presbyterian Church.
After a strenuous ministry of three years, soon after the outbreak of war, Alexander joined the Army Service Corps as a private and received a year's leave of absence from Presbytery and congregation. The Army Service Corps (Northumbrian Division) were responsible for the allocation and provision of food, supplies, transport and weapons to the British troops. In 1915 Alexander was promoted to Sergeant and in 1917 promoted to 2nd Lieutenant, rising through the ranks from private to commissioned officer. He served in France with the Egyptian Expeditionary Force. During his active service he resigned his charge at Waddington Street and in his absence, a retired minister from Sheffield, Rev. William Harcus, exercised pastoral oversight there.
Alexander was discharged from the army in 1919. On returning to the north east he was inducted to ministry at Seaton Delaval. An article in the Durham Chronicle dated 29 October 1920 describes how Alexander was invited back to Waddington Street to conduct a service dedicating the memorial to the fallen in WW1 bought with donations raised by members and friends of the congregation,
The Rev. Alexander R. Paton carried on in ministry with the Presbyterian Church of England (who joined to become United Reformed Church in 1972) holding posts in Gloucester (1924), Leytonstone (1928), Greenwich (1934), Derby (1939) and retired in 1944 within the Presbytery of Nottingham which included Derby.
In 1938 Alexander lived at 17 Arran Road, Lewisham. He died on 8th November 1945 and was cremated on 12 November 1945 in Nottinghamshire (Derby)
Charles Douglas Lamb
Lieutenant EC/1155
8th Punjab Regiment
Charles was born in Durham on 30 November 1918. He was baptised in our Church on 29 November 1918 by the Rev. W.A.B.Gall followed by his sister Kathleen in November 1922.
Charles lived with his parents David who was a schoolteacher and his mother Kathleen in Fieldhouse, Framwellgate, Durham. Charles was employed as a railway clerk.
During the 2nd World war Charles joined the 8th Punjab Regiment as a lieutenant and fought in the Malayan Campaign which ran from 8th December 1941 -31 January 1942. This was a land battle between British Commonwealth army units and the Imperial Japanese army. The Japanese had air and naval supremacy from the start. For the British, Australian and Malayan forces defending the colony, the campaign was a total disaster. During that campaign Charles and his regiment took part in the battle of Kampar where on the 2nd January 1942 Charles made the ultimate sacrifice and gave his life there. The following article describes events leading up to and the moment he died.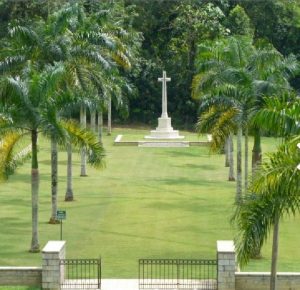 "During the two-day battle Japanese troops managed to capture trenches on the Eastern sector of Thompson Ridge. After two counter attacks by "D" Company of the British Battalion and a third by the Jat-Punjab Battalion failed, a reserve mixed company of 60 Sikhs and Gujars from the Jat-Punjab Battalion was brought in to attempt to retake the trenches. This half company under the command of Captain John Onslow Graham and Lieutenant Charles Douglas Lamb (both officers were from 8th Punjab) fixed bayonets and charged the Japanese position. The Japanese fire was so heavy that 33 men, including Lamb, were killed in the charge. Graham continued to lead the attack after being wounded and only stopped when a grenade mangled both his legs beneath the knees. Nevertheless, he continued to shout encouragement to his men and was seen throwing grenades at the Japanese trenches. Altogether 34 Indian Troops died in the attack, but they retook the position. Graham died of his wounds a day later and was subsequently Mentioned In Dispatches for his actions on Thompson Ridge."
 Charles is buried in Taiping War Cemetery, Taiping Perak, Malaysia.
John Goodwillie Shepherd
Flight Sergeant 1071280
RAF Warboys (Pathfinders)
John was born on 31 December 1921 in Forfar, Angus, Scotland. He lived there with his parents James and Jean, his big brother William and little sister and brother Alice and James.
During the 2nd World War Join joined the R.A.F. and became a flight sergeant in 156 Squadron, Bomber command where he was a navigator / bomber flying Lancaster planes.
He was part of the team called 'R.A.F. Warboys' who were formed in 1942 – disbanded in 1945 based at an airfield built west of A141 Huntingdon to Chatteris Road in 1941.
John was also part of the Path Finder Force who were formed to solve navigating and aiming problems in the R.A.F. Pathfinders were a group of elites, specially trained and experienced crews, who flew ahead with the main bombing forces and marked targets with flares and special marker bombs. It was during one of these raids at 20.25pm on 27th March 1943 that John's plane crashed at Doberitz, Germany killing John in action, aged 21.
He is buried in the Berlin 1939-1945 War Cemetery, Charlottenburg – Wilmersdorf , Berlin.
Acknowledgements
Yvonne Melville
David Woods
Dougie Melville             co-authors
Ancestry.com
Forces Reunited
Durhamatwar.org.uk     websites
The knowledgeable staff at Durham Records Office
Andrew Atkinson (Synod)
Steven Orange (Material on Rev Paton)
Doris Jackson (Church Records)
Sandy Ogilvie (Printing)
Waddington Street encourages you to support
A printer friendly version with further illustrations can be downloaded here  (29 Mb file)