Our Talking Climate Justice Tour  will be held at Waddington Street URC at 2.30 pm on Saturday 29th October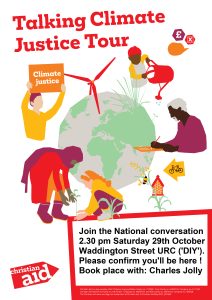 There are many aspects to the environmental crises and there are many things, big and small, that can be done by us as individuals as well as by schools, universities, charities, councils, governments, business and industry.
The role of churches, however, is crucial both because we believe that God has given humanity a sacred duty to care for Creation and because God demands justice for the Poor. In churches, we pull together as the hands and feet of Jesus.
With climate change causing or exacerbating: heat-waves in India and China, floods in Pakistan, droughts in Africa, hurricanes in the Caribbean, to name a few, Christian Aid has asked us to mobilise for climate justice for the world's poorest people.
While we are, rightly, worrying about what might happen here if global warming exceeds 1.5 degC, many poor people are suffering and dying right now from climate chaos. Like Martin Luther King with Civil Rights, Desmond Tutu with ending Apartheid or William Wilberforce against the trans-Atlantic slave trade, we are called to be bold in prayer and action. And effective actions start with conversations.
Therefore, in Waddington Street URC, with churches across the country, we are taking part in the Christian Aid Talking Climate Justice Tour. In reality, our event is being organised locally by our Christian Aid and Environmental Groups, using resources provided by Christian Aid to get us started. But we need everyone, if you can make it, to join us on 29th October afternoon for a start at 2.30 p.m. prompt – please bring your thoughts and ideas and insights to the conversation.
To help us plan the afternoon, please let Charles Jolly know that you are coming.  Email [email protected] or ring or text 07484 243885.
We also strongly recommend that you read beforehand a very helpful booklet provided by Christian Aid: 'Our Prophetic Journey Towards Climate Justice':
This is a warm invitation to help keep us cool – we look forward to an energising afternoon!