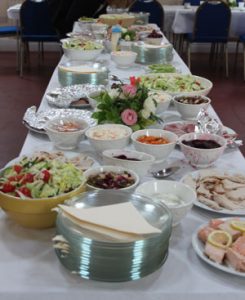 Retired minister Alan Smith, a member of our congregation, ended a week of celebrations of his 90th birthday with a fund-raising lunch in our church hall on Sunday June 11th, following the service led by the Assembly Moderator.
Members of Alan's family had travelled from as far away as Fiji to share in the celebrations, and our congregation were privileged to know that they too were to be seen as part of his family.
After a welcome by Alan, we shared in a wonderful buffet spread prepared by members of the church. Gifts were made to our 2017 chosen charity, the Christian Blind Mission – a cause that is particularly close to Alan's heart.