Barbara Tinsley writes about the recent church weekend  (June 23-25)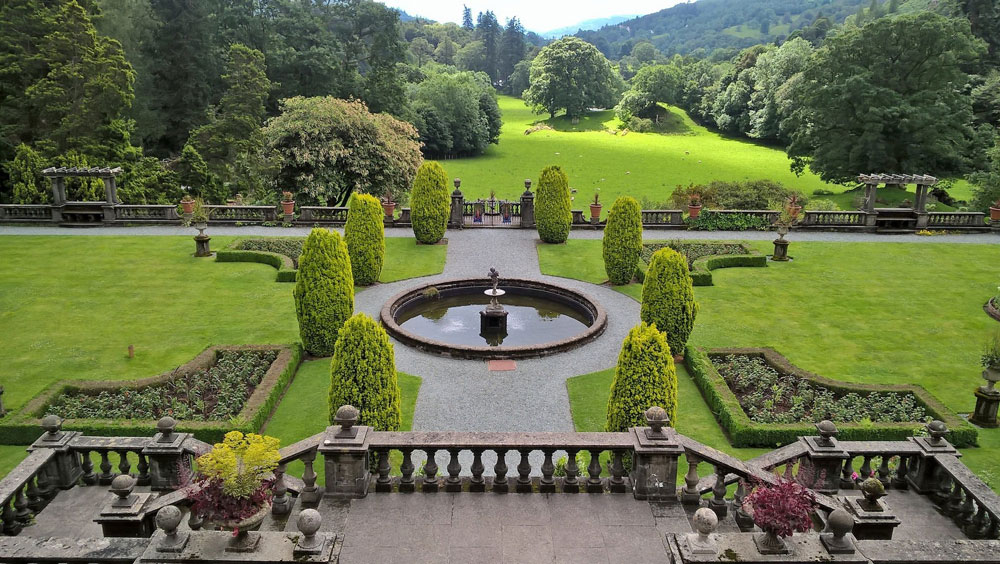 A group of us spent a truly wonderful weekend at Rydal Hall Ambleside (www.rydalhall.org ). The hotel was clean and comfortable, the company friendly and stimulating, the food excellent and the grounds beautiful. There is a formal garden designed by Thomas H. Mawson between 1909 and 1911 with balustrades, classical urns, geometric flower beds and a central fountain complete with dolphins and a cherub. Beside the hall is a spectacular waterfall which has been painted by John Constable and Thomas Sutherland.
In the 18th century at the beginning of the Romantic movement when such picturesque scenes were greatly admired, the Rev John Gilpin drew attention to this dramatic cascade at the side of which is a little hut with a large picture window. This is known as The grot. Originally built in the 17th century it has been restored recently with new oak panelling and is one of the best vantage points from which to see the waterfall.
Behind the hotel is a wood in which there are red squirrels and there are also panoramic views across rolling countryside from which there can be heard the occasional bleat of a lamb.
Our thanks go to the Rev Ruth Crofton for a most interesting and moving presentation about the work of Woodbine Willie, a.k.a the Rev Geoffrey Anketell Studdart Kennedy, an army chaplain in the first world war. He earned his nickname from dispensing Woodbine cigarettes along with sincere and compassionate counselling to the men caught up in the horrors of that war. He wrote quite unorthodox poems from an ordinary soldier's point of view in a vernacular dialect. The most moving poem I found was entitled The Pensioner, told from a woman's point of view. Her husband, a red blooded and passionate man, goes off to war and returns a pathetic wreck of a man whom she nurses for the rest of her life.
It was a thoroughly enjoyable weekend with good fellowship in a picturesque setting. There is a very good library with most interesting books on a wide range of subjects. One evening was spent playing a game based on Desert Island Discs which gave us the opportunity to discuss what music, books, luxury items etc we would take. Each day began and ended with a time of quiet reflection and prayer.
I have already put my name down for next year!"




And a poem by Barbara…..
Thoughts at Rydal Hall
I sit down on a silent wooden bench
And yet there is movement.
A sheep chews cud contentedly
A black lamb ambles to its feet and totters off across the meadow.
Sunlight illumines, then shadows distant hills in shade of moss and lime.
Time passes.
The leaves on a delicate sapling flicker and dapple the breeze.
A nearby frond, lance-shaped sways back and forth.
A pair of walkers with a dog crunch by on the gravel.
It is peaceful, quiet and still,
And yet there is movement.